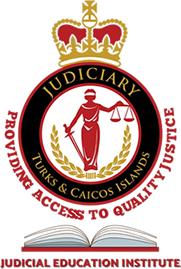 Turks and Caicos Islands Judicial Education Institute
The Judiciary of the Turks and Caicos Islands has now formally launched its Judicial Education Institute, under the leadership of our Chief Justice, the Hon. Mrs Justice Mabel Agyemang. The TCI JEI is headquartered at the Supreme Court Building, Pond Street, Grand Turk.
The purpose of the TCI JEI is to bolster, through access to training and sensitization programmes, the capacity and service delivery of our judicial officers and court staff. The aim is to strengthen the administration of justice as the Judiciary continues to build public trust and confidence in our judicial system.
The JEI very recently completed delivery of its maiden training programme entitled 'Improving Judicial Skills: Coherence and Clarity in Judgment Writing' under the tutelage of the Commonwealth Judicial Education Institute. This programme was open to our judicial officers.
Due to restrictions caused by the COVID-19 pandemic, the training programme could not be hosted in person at our Grand Turk Headquarters, but it was very successfully conducted remotely, via Microsoft Teams, over the past month from 24 July to 28 August. The Hon. Mr Justice Dennis Morrison, President of the Court of Appeal of Jamaica, delivered the taught modules, and the Hon. Mr Justice Peter Jamadar of the Caribbean Court of Justice, facilitated.
The JEI will continue to identify and prepare training programmes for the judicial officers and staff of the Judiciary as it works to continually improve our skills set and capacity to serve.